Georgetown
Perhaps the best know neighborhood in Washington, D.C., Georgetown offers the best of old and new. The traditional boundaries of Georgetown are Dumbarton Oaks to the north, Rock Creek to the east, the Potomac River to the south, and Georgetown University to the west.
Founded in 1751 along the shores of the Potomac River, the establishment was originally called George Town in honor of King George II of England. In fact, the founding of Georgetown predates the creation of the District of Columbia by 40 years and it remained a separate municipality until after the Civil War.
The economy of Georgetown was originally dominated by waterfront industries, such as shipping and fishing. However, the waterways became clogged with silt and efforts to dredge it proved to be cost-prohibitive. Resources were put into building an industrial economy along the Potomac River and building the current-day Georgetown.
Today, one of the main benefits of living in Georgetown are the numerous conveniences of everyday living. Many locations are within easy walking distance – D.C.'s main business areas, government offices, the Kennedy Center, and recreational opportunities.  High-end shops, bars, and restaurants along Wisconsin Avenue and M Street are an easy walk. Georgetown University also proudly calls this neighborhood home.
Many of the homes in this area are stunning brick, federal-style row houses. Dumbarton House, Tudor Place, and Dumbarton Oaks are heralded as three of the iconic homes-turned-museums in the city. The Old Stone House, which is the oldest unchanged structure in Washington, D.C., is also located here.
Over the years, many famous Americans – including Thomas Jefferson, Alexander Graham Bell, and John F. Kennedy – have called the cobblestone streets of Georgetown home.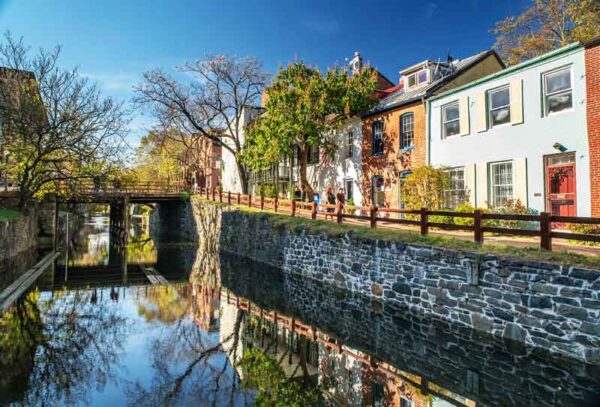 Washington, DC
Communities